The De la Haye Ensemble consists of a piano trio but also performs as a duo or in other line-ups. The ensemble can count on the commitment of the following excellent and experienced musicians.
JeongSun Goo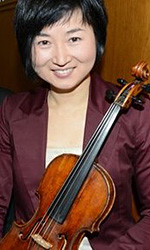 In her native South Korea JeongSun played at a young age as a soloist with several symphonic orchestras. After her violin study at Ewha University in Seoul, she became increasingly interested in chamber music. In 2005 she obtained a master's degree in chamber music at the Conservatory of Rotterdam with Ilya Grubert and Thijs Kramer. To develop her interest further she participated in masterclasses and international music festivals in Finland, the United States, Italy, France, the Netherlands and Austria with famous violin masters. JeongSun worked for several years with various orchestras. Since 2008 she has been concertmaster of the string ensemble Entente Cordiale. She is active in chamber music groups both classical and baroque. Since 2019 she has been committed to the De la Haye Ensemble.
Daan De Vos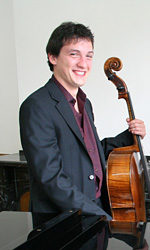 Has been playing the cello from the age of five and took lessons at the Academy of Music in Lier. Daan De Vos studied cello with Hilde Vertommen and Geert De Bièvre and took lessons with Edmond Baert. He studied at the Conservatoire Royal de Bruxelles in the class of Prof. Marie Hallynck. He has won several awards, both for solo cello and for chamber music. In 2004 he obtained the YoTaM (Young Talented Musician) grant from the Flemish government to support young Flemish musical talent. Since its foundation, he has been committed to the De la Haye ensemble. He is a valued musician with several chamber music groups and with the chamber orchestra 'La Passione'.
He currently teaches musical education at the 'Sacred Heart of Mary institute' in Berlaar and teaches cello at the 'Kortjakje' school in Booischot, where he teaches passionately also to the little ones. Since 2013 he has been an 'International Suzuki Teacher'.
Bart Meuris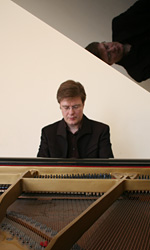 Founder of the De la Haye Ensemble, a chamber music ensemble that focuses on classical and contemporary classical music with an eye for creations and musical heritage.
He received his professional education at the Royal Flemish Conservatory in Antwerp from Urbain Boodts and from the famous piano educator Jacques Detiège. He also studied music theory with Emanuel Geeurickx, Jos Van Looy and Claude Coppens. He is an active chamber music player and solo pianist. He distinguishes himself in his effort to promote both music of the 20th century as well as contemporary music. He organized several musical projects, focusing on relatively unknown music. Besides a great amount of well-known chamber music, he has also played music by Belgian composers. He contributed to the renewed interest to Belgian composers such as Joseph Ryelandt – for whom he recorded for Toccata Classics in London – and Norbert Rosseau. He also promoted contemporary composers and created works for Martin Valcke, Hannes Taljaard (Potchefstroom, South-Afrika), Wim Henderickx and Pieter Schuermans.
He wrote an essay on the nocturnes and preludes by Joseph Ryelandt and made recordings for BRTN and radio Klara (Belgian Classical Radio)
Bart Meuris taught during many years piano and piano practicum at LUCA School of Arts, Campus Leuven. He is also an appreciated teacher of piano and practical accompaniment at the Academy of Music, Lier and has a great passion for teaching piano improvisation to both young people and experienced musicians alike.
Greet Severens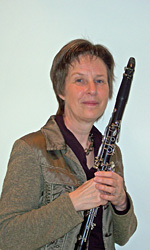 Studied clarinet at the Royal Flemish Music Conservatory in Antwerp (Walter Boeykens) and obtained the First Prizes for clarinet and chamber music and the Higher Diploma in both disciplines. She also studied at the California Institute of the Arts in the USA (M. Zukovsky) and graduated as a "Bachelor of Fine Arts". She also played in the Los Angeles symphonic youth orchestra conducted by Zubin Mehta. She is a laureate of the Tenuto Competition (1977) and the Tromp Competition in Eindhoven (1980). For several years she was a member of the Flemish Chamber Orchestra of Brussels conducted by Arie Van Lysebeth. She has performed in France, Germany, the Netherlands, USA, Russia, Italy and of course also in her own country. As a pedagogue she is regularly invited abroad, but also in her own country she often provides quality support to amateur associations. Since 1978 she has been a teacher – now honorary teacher – clarinet and chamber music at Luca School of Arts, Campus Lemmens, the former Lemmens Institute in Leuven, where she also conducted the clarinet ensemble.
Frans Vos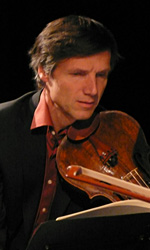 Is a valued teacher – now honorary teacher – at Luca School of Arts, Campus Lemmens, the former Lemmens Institute in Leuven and at the Conservatory in Mechelen. He obtained Higher Diplomas in viola and chamber music from the Royal Conservatories of Music in Brussels and Antwerp and a license in Germanic philology from the K.U.Leuven. On the concert stages, Frans Vos can be heard as a viola player in the Ensor String Quartet and as a member of various ensembles, such as Anima Eterna by Jos Van Immerseel, Ensemble Explorations, The Chamber Orchestra and B'rock.